About
Rikkyo University's Business
Mission, Learning Outcomes, Learning Environment (Undergraduate Courses)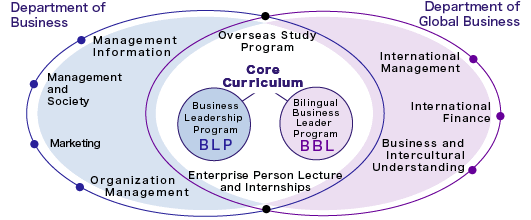 Mission
The College nurtures young persons who are capable of self-actualization and social contribution through administration of global business in an intercultural environment.
Learning Outcomes
Students who earn a bachelor degree (business) will:
Act with a high degree of morality, while reflecting critically on their own words, actions and values.
Build good relationships without prejudice with people from various cultural backgrounds and with various life experiences, work cooperatively with them.
Speak, read and write with ease in a foreign language other than English.
Take interest in and discuss actively a broad variety of issues, seek the truth through creative research and independent study, and continue this after graduation.
Make critical choices based on knowledge and information about business with application to diverse business projects.
Develop a detailed knowledge of at least one of the following fields: "marketing," "organization and management," "management information," "management and society," "international management," "international finance," or "culture and communication," and exercise this knowledge logically when analyzing issues and creating business projects.
Demonstrate leadership in problem solving, utilizing a variety of analytical business tools in various business scenarios (Especially for Department of Business Students).
Use English fluently in business presentations, meetings and negotiations (Especially for Department of Global Business Students).
Learning Environment
In order to achieve the above-mentioned learning outcomes, the College of Business provides:
A learning community that begins at matriculation, including a residential orientation program before classes begin.
Appropriate academic advice, an interview with the Dean of the College for all first-year students, and assignment of an academic advisor for each student for the four-year duration of study.
A curriculum that enables all first-year students to take basic courses ("Introduction to Leadership"), and all students in their second year onwards to take seminars in specialist subjects of their choosing for a period of three years.
Opportunities to engage in communication with counterparts other than department staff and students in the same academic year, including lectures by representatives of business, advice from senior students and graduate students, discussion and exchange with international students.
A systematic series of specialized subjects, including Marketing, Organization and Management, Management Information, Management and Society, International Management, International Finance, and Culture and Communication."
An international standard GPA system that fairly assesses and certifies academic progress and achievement of students.
A curriculum (Basic Course, Introduction to Leadership, Business Leadership 0 (BL0) BL1, BL2, BL3, BL4) that provides systematic training in business leadership (mainly for students of the Department of Business).
A curriculum (Basic Courses+ESP, Sheltered Courses, Mainstream Courses) that enables students to work their way up to major courses taught in English (mainly for students of the Department of Global Business). All students of the Department of Global Business and students of the Department of Business who so desire may take part in the Overseas English for Academic Purposes program. Furthermore, there are opportunities to experience training overseas, in the overseas Global Leadership Program and the Overseas Internship Program.
Approximately 10% of undergraduate students who will go on to graduate (approximately 20% for the Department of Global Business) will be able to participate in study abroad at a partner university overseas for a period of six months or one year.
Pledge
Rikkyo University College of Business Pledge
As a member of the College of Business, and as future leader in business and society, I hereby declare that I will strive to:
Learn and use my talents to contribute to the creation of a sustainable and prosperous world.
Respect and defend the rights and dignity of all people.
Act with honesty and integrity, and
Accept the responsibility for my actions.
I make this declaration today before all my colleagues and, together with all my colleagues, I will honor this declaration from this day forward.